Olverum Bath Oil - a welcoming addition to a bath - REVIEW
Olverum Bath Oil - a welcoming addition to a bath - REVIEW
Do you love soaking in the bath after a busy day at work? Do you need to de-stress around this time of year f
orm the challenges of Christmas shopping, general elections and work or university deadlines? The Olverum website explains that "Since 1931, the rejuvenating effects of Olverum oil have acquired an almost mystical reputation among its users."
If you've said yes to either of the questions, Olverum Bath Oil is exactly what you need to add to your evening routine.
As someone who usually has a shower rather than a bath in an evening, this was a welcoming addition to, what is already a relaxing time. The luxurious little bottle comes in a perfect box, with instructions for use and is described to be filled with a "luxurious aromatic blend of essential oils" By adding just a couple of drops to your bath, the extracts combine to help ease stress and relax tension in both mind and body which can help bring you bring you back into your natural self.
And as you would expect - as soon as you open the bottle, the gorgeous tea-tree like smell fills the room, instantly relaxing you, before you're even in the bath!
As someone who has always suffered from sensitive skin, from washing powders and conditioners, to soaps, to stress causing me to break out in rashes and itchiness, after a 20 minute soak with this in my bath, I was instantly relieved from the itching sensation and the redness that has been taking over my skin was calmed down, obviously its not completely healed my skin, but it has definitely contributed to helping - a lot better than steroid creams that have been provided to me from doctors/nurses in the past.
I will definitely be continuing to use Olverum Bath Oil, not only to help my skin, but to help me! A little bit of "me-time" is exactly what we all want and need and a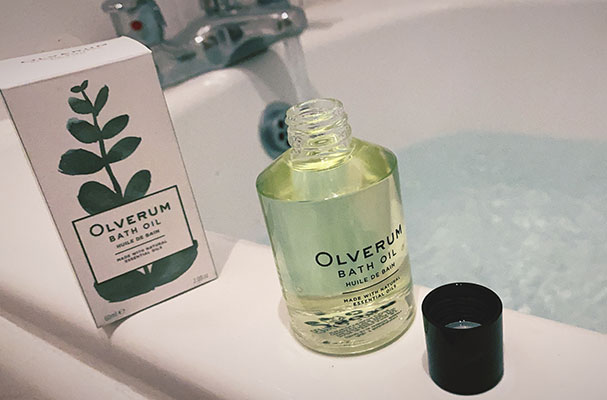 short 20 minute bath was all it took for me to fall in love with this product and forget about everything else that I've been given or recommended to use - I always believed that nothing was going to heal my skin for any longer than a week as thats the longest relief I've had from creams from the doctors, however, instantly this little bottle of magic has helped me more. And it leaves your skin smelling amazing too!
"We don't believe in magic, but we do know that Olverum's unique formulation of carefully selected plant extracts, each with their own traditional therapeutic properties, is a truly relaxing and uplifting experience for body and mind"
To have a look for yourself, visit their website to find the product that is best for you. https://www.olverum.com
For more information on Olverum Bath Oil - take a look at one of our other articles that they have recently sent to us about their product.