Interior expert's top tips on designing a fitted bedroom
Interior expert's top tips on designing a fitted bedroom
Are you planning a fitted bedroom? Well-designed spaces can revolutionise a home, making rooms clutter-free, efficient and all together more relaxing.
Fitted furniture is a hugely popular way to maximise the use of awkward spaces; to personalise storage solutions and to create a timeless look in a bedroom.
 
As one of the UK's leading suppliers of fitted bedroom furniture, the team at My Fitted Bedroom (www.myfittedbedroom.com) have years of experience in designing and installing bespoke bedroom furniture and storage solutions. The brand's Head of Design, Megan Baker shares her top tips for choosing fitted furniture.
 
HOW TO UTILISE EVERY INCH OF SMALL SPACES 
If your dilemma is a lack of square footage in a room, whether it is a box room or a loft conversion, optimising every inch of available space is a must. The bed will usually take up the most floor space in a small room, so think vertically and overhead for storage and furniture. Exploiting the space all the way up to the ceiling will not only provide extra storage it will make the room feel higher.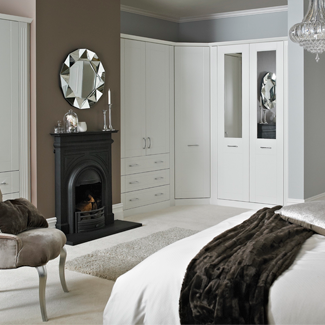 Make a list – in order of priority - of the types of furniture and storage that you would like to incorporate into the space – whether it's a desk, single or double bed, drawers, hanging space etc. - as the fitted furniture formulation can be designed around priorities. 
 
To free up surface space put screens and tech on walls or hide them behind sliding wardrobe doors, also use shelves rather than surfaces for ornaments and accessories. 
It's fun to play with the height of lighting in a small bedroom design. Low level floor lights can create ambiance where space is limited.
 
Sliding wardrobe doors in a mirror finish play a dual purpose in a small space.  You don't have to factor in floor space for when the doors are opened and they visually enhance the room, making it appear lighter and brighter, reflecting light and giving the illusion of space. Mirrors, glossy surfaces and metallic finishes will also help bounce light around a room, making it feel larger.
ZONING IS KEY FOR LARGER SPACES
A common creative conundrum when it comes to properties with larger bedroom is how to make a big, open space feel more cosy and boutique like; for this, zoning is key.
Zones can be created with both fitted furniture and soft furnishings, such as rugs and sofas. Where a room can accommodate big, statement furniture, go for it. An oversized headboard in a plush fabric or vibrant print makes a dramatic statement and draws the eye to the bed. 
ACCOMMODATING ALL SHAPES & SIZES 
With space at a premium in many homes across the UK, transforming nooks and crannies, eaves and alcoves from a frustrating 'waste of space' into an organised wardrobe or cupboard can prove to be a great investment for homeowners. From loft conversions, high ceilings, sloping walls or bay windows, solutions can be created.
 
Clever door opening ideas, such as a corner 'stable door', can be incorporated to best suit the space available and well thought out internals will further maximise the space. Dressing tables built into corner units are ideal for those who like a designated area for getting ready in the morning. 
 
FITTED FURNITURE IS IDEAL FOR PERIOD PROPERTIES
It's often difficult to fit freestanding furniture around the sought-after original features of period properties and the result can feel cluttered and mismatched.  Built in furniture, on the other hand, can be designed to work around any shape and size of alcove - meaning original fireplaces and features can stay put.
 
Fitted furniture works perfectly in traditional bay windows, providing a stunning seating area with ample storage underneath – ideal for housing duvets, pillows and bedding that otherwise take up valuable cupboard space. 
 
Fitted furniture is not only bespoke in terms of structural design but also in style and colour - another reason the tailor-made approach is ideal for period properties. Unlike many off-the-shelf freestanding ranges, there are hundreds of shades and finishes available, meaning bespoke furniture can be designed to effortlessly complement existing features and colour schemes.
 
BE BOLD WITH COLOURED DOORS
Although wood and white finishes will always be popular choices for bedroom furniture, at My Fitted Bedroom we're seeing an increase statement wardrobes in bolder colourways.
 
The newly launched Elise fitted bedroom range from My Fitted Bedroom features a four-panel shaker door design, which can be tailored to your requirements and complemented with drawers as well. The new range is available in 29 colours including Classic Indigo Blue from £3,540.
 
Another on-trend colour at the moment is Dulux's Colour of the Year for 2020, 'Tranquil Dawn'. The colour is a hazy greeny-grey shade inspired by the morning sky that signifies fresh beginnings for interior design, encourages human connection and is a nod to the new decade we have just entered. Everybody loves a neutral and Tranquil Dawn is as pretty much close to neutral as a green tone can get – perfect for putting a new twist on greys and beiges. 
BESPOKE STORAGE NEEDS
When choosing fitted bedroom furniture, more and more people are opting for configurations that go beyond hanging rails and drawers, by incorporating bespoke shoe, bag and make-up storage within a wardrobe. 
 
Replacing the dressing table concept (often messy and filled with bottles, brushes and make-up palettes) built-in beauty bays – hidden behind wardrobe doors – are ideal for keeping make-up and toiletries hidden away. It's a discreet dressing table and so much more - the mirrored cabinet opens to reveal ample space for your fragrances, make-up and other beauty products, while the glass shelves and lighting add a real touch of class.
Regardless of how many pairs of shoes you have (and the average woman owns over 24 pairs), our clever shoe storage solutions will keep them in-check. And for those who love handbags as much as shoes (or co-ordinating the two) - you can even add bespoke shelves to store handbags and other items alongside your shoes.
 
The My Fitted Bedroom gentleman's dresser is perfect for organising shirts, trousers, shoes and underwear all in one place.
Men and women's storage needs differ, due to the type of clothing that dominates their wardrobes, and whether items need to be hung or folded away. Accommodate both with bespoke designs for different needs.
 
CHILDREN'S BEDROOMS: THINK ABOUT THE SPACE WILL BE USED
Designing children's bedrooms comes with different challenges to those designed specifically for adults. The key considerations to note when planning a child's bedroom are:
Kids are smaller than grownups for one – and messier (well generally!) which impacts storage options
Rooms need to evolve as kids get older; rooms that feel roomy with a cot will soon need a full size bed
They need to be inspiring and somewhere children feel at home… their personalised space, unique to them
 
ASK THE EXPERTS 
The importance of precise planning and meticulous design should never be underestimated to create the perfect bedroom – especially when it's a complex shape or has structural recesses that can be problematic.  Rather than ignore or try to cover up the quirkier attributes of a room, you can easily make them work in your favour.
Spend your time and budget wisely, work with an experienced designer when planning your space and an experienced installer when fitting furniture. Trust Pilot is a great tool for looking at customer reviews.
If you're planning on developing a fitted bedroom in your home, then take a look at this website for more ideas and inspiration!