Try this delicious recipe using Del Monte's Pineapple Chunks!
Try this delicious recipe using Del Monte's Pineapple Chunks!
If you're into baking and you fancy putting your skills to the test, then try out this delicious recipe using Del Monte's Pineapple Chunks! 
Full of flavour, this luscious Pineapple & White Chocolate cake with salted brown sugar glaze is sure to get your tastebuds tingling! The full recipe is below...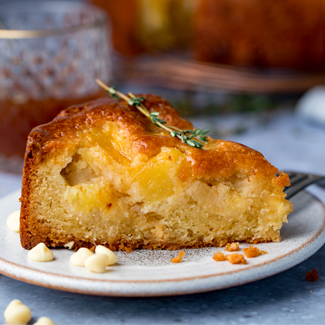 Ingredients:
Cake:
200g unsalted butter
200g golden caster or granulated sugar
1 tsp vanilla extract
3 large eggs
200g ground almonds
100g plain flour
1 tsp baking powder
100g white chocolate chips
1 x 435g tin Del Monte Pineapple Chunks in Juice, drained (reserve the juice)
A few sprigs of fresh thyme

Salted Brown Sugar Glaze:
Reserved juice from 435g tin of Del Monte Pineapple Chunks in Juice
2 tbsp light brown sugar
¼ tsp sea salt

Instructions:
Preheat the oven to 170c and line a round, 20cm-diameter loose-bottomed cake tin with baking parchment.
Cut the butter into chunks and place in a large bowl with the sugar. Whisk with an electric whisk (or in a stand mixer) until fluffy (about 3-4 minutes).
Add in the vanilla extract, then whisk again whilst adding in the eggs, one at a time.
Fold in the ground almonds, flour and baking powder.
Stir in the white chocolate chips then spoon the mixture into the prepared cake tin. Level the mixture with the back of a spoon.
Arrange the drained pineapple chunks on top of the cake and push in very slightly.
Place the cake in the oven to cook for 35-40 minutes - until an inserted skewer comes out clean.
While the cake is in the oven, make the salted brown sugar glaze. Pour the reserved pineapple juice from the drained pineapple into a small saucepan.
Bring to the boil, then simmer for 8-10 minutes until reduced by half and slightly thickened.
Add the brown sugar and stir together until the sugar dissolves, then stir in the salt.
Turn off the heat and leave to cool to room temperature. It will thicken further as it cools.
When the cake is done, remove from the oven and leave to cool in the tin.
Remove from the tin and remove the baking parchment. Brush or drizzle the salted brown sugar glaze on top (you can warm the glaze back up if it's thickened too much).
Arrange a few thyme sprigs on top, then serve.
Visit the Del Monte website for more fruity ideas. If you make this taste tingling recipe, then please tweet us your pictures to @finerthingsmag. Enjoy!