Smith England luxury haircare range!
Smith England luxury haircare range!
It's always a challenge finding the perfect care for your luscious locks, but we think we might have found it! Finer Things have had the luxury of sampling the new Smith England haircare range. 
I had the chance to try the 'Boost lasting volume shampoo', 'Purity ultra gentle conditioner', 'Nourish intensive moisture mask' and the 'Gloss shine expert oil'. All the Smith England ranges include a shampoo and conditioner, with most of them including an extra product within the range. The packaging is subtle and elegant, and the floral design is a lovely addition. 
Upon application of the shampoo, I instantly knew I was using a luxurious product. The smell was divine and the texture was that of what I imagined. It's a little thicker than most shampoos I have used before, which meant I had to pair it with a little more water to get it to spread across the length of my hair,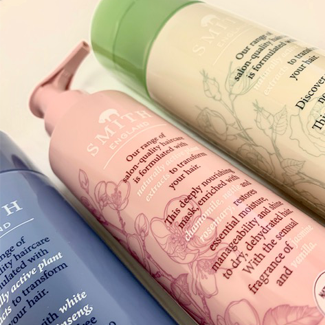 but once I'd got the desired texture, it was lovely. 
The conditioner was my next step, and this was really brilliant. I barely needed any product to spread it down the lengths of my hair (and I've got pretty long hair!) so this was great. Not having to use a lot of product makes it more cost effective, especially if you're spending more than you usually would on hair products. 
When I had towel dried my hair, I applied the hair oil. I'm a big fan of hair serums, but I had never used a hair oil before so this was a nice surprise. I applied it to the mid lengths of my hair, focusing heavily on the ends. Once my hair was dry, I could really see the difference when comparing it with my normal routine. My hair was silky, frizz free and I had no flyaways! My hair stayed pretty silky throughout the day, and when I brushing there were barely any knots. I expected hair oil to make the hair slightly greasy, but there was no sight of this at all. 
I used the hair mask on a different day in place of the conditioner, and this felt like I was bathing my hair in moisture. I wouldn't suggest using the product everyday as it does feel like a heavy conditioner, but maybe once or twice a week when your hair needs an intense moisture boost. 
Overall, if you're looking for a luxury brand that fulfils all of your hair care needs, then Smith England is definitely worth a try. Visit the website to find out more, including costs and detailed descriptions of each product!