Roomzzz to relax in during your weekend in the city
Roomzzz to relax in during your weekend in the city
Roomzzz Aparthotels are situated in two fantastic locations right in the heart of Manchester ideal for a weekend in the city, says Wendy Allen-Smith. Read on for her review…
We travelled by train and stayed at the Manchester Corn Exchange, which is located close to Manchester Victoria train station, for an overnight break to wine and dine in the city.
On arrival we climbed the stone steps to the impressive reception area and were greeted by a friendly member of staff who explained how to get to our apartment and where the amenities were – e.g. the breakfast station and the Essentialzzz shop. We grabbed a complimentary coffee each from the Grab & Go station and took the lift to our apartment. Exiting the lift, we really started noticed the quirks and features of the Grade II-listed building and the décor, with original wall tiles and grand staircase.
Our apartment was fantastic, spacious, and very well equipped with a luxurious feel. It had a very comfy bed, a spacious bathroom, a kitchen/dining area with a fridge, microwave/grill and a 2-ring hob. There was also a sofa, 2 TV's and some complimentary soft drinks and snacks. The overall feeling was comfortable, spacious with a modern décor.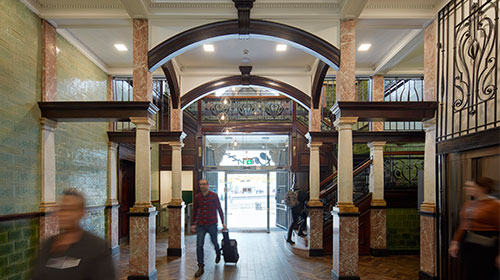 We left our apartment to hit the city and we didn't have to go very far at all, which was great as the weather was a bit wet and wild! We walked out of the reception area straight into the Corn Exchange where there are a whopping 14 restaurants and enjoyed a cocktail whilst chatting and planning the rest of our Saturday. The Corn Exchange is great for all weathers as each restaurant has both inside and outside areas. Once the weather brightened up we wandered all over the different areas of the city, enjoying a few drinks along the way, and then dined at our favourite Tapas restaurant on Deansgate, which is called La-Viña. 
In the morning I sent my other half down to the Grab & Go and Essentialzzz shop to get our breakfast so we could take full advantage of our room – we booked a late checkout time for just an extra £10. After leaving we went for a late lunch within the Corn Exchange before catching the train home.
City entertainment on your doorstep
A Roomzzz Aparthotel would make a great base for your weekend in the city. Because the rooms are spacious, it's like a home from home and they are well catered for with a fridge, glasses and tableware. If you're staying with friends and family, you could meet in one of the apartments to celebrate with chilled drinks and snacks and there's plenty of room to play games, watch movies and basically spend some quality time together. 
And if you're here for a day or two then a packed itinerary could include a cocktail bar and club crawl at the Printworks, or you could try racing your way out of the Escape Rooms or competing in the Crystal Maze. Have a laugh at the famous Comedy Clubs, immerse yourself in the Football Museum and try the penalty shoot-out there or head off to a gig at the Manchester Arena. With all of these attractions within half a mile or so, this really is a fantastic location. And Roomzzz are available in city locations across England – so wherever you'd like your weekend in the city to take you, book in at this luxury apart-hotel chain and you won't be disappointed.