Giving your living room a new lease of life
Giving your living room a new lease of life
Is it time to add some life back into your living room? When it comes to bringing ideas forward to reinventing your living room, the options are endless. But in order to keep that luxury feeling of the room, there are four ways that I think work best. think about introducing plush textures in through either cushions, blankets or rugs and depending on which colour you chose for your base, metallics always work with allowing luxury to be kept within the room.
Grey.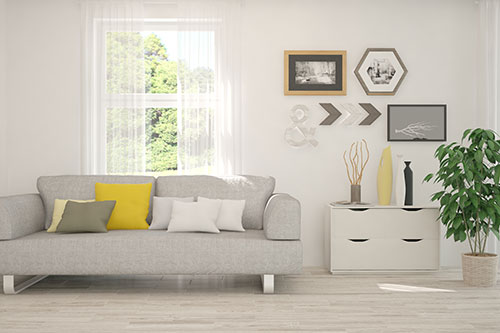 Bringing different tones of grey into a living room is a favourite for interior designers. Whether you want it light or dark, more warm than cool, there will be grey out there that will suit your desire. It is known to be one of the easiest colours to style within the home. With grey, you can play around with it, it is one of those colours that you can keep as your base and introduce colour to. Depending on the shade of grey you chose will be how you chose what colour to bring into the room though. If you go for a lighter grey, pastel shades are the tone you are aiming to go for, whereas if you go for a darker and more dramatic grey, you would want to look at bringing bold bright colours into the room.
White.
White is always a good colour scheme to use if you want to have a crisp, clean look in your home. It is one of those styles that will never go out of fashion - which means your living room will not be luxurious. Introducing gold into your white living room is an effortless way of allowing your decor to stand out. Bringing in plants, and lost of them, are a brilliant way of making your living room stand out. However, if you are open to having some colour brought into the room, finish it off with a striking piece of wall art too!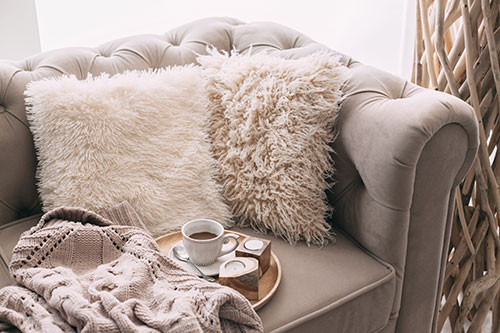 Cosy.
If you want to go for a more cosy look in your living room, think thick and fluffy textures with a nice fireplace and a comfortable sofa. The best way to get this look is by having a corner sofa with a material base - rather than leather - as a feature part of the living room. By having a corner sofa, you are able to build up textures and colours through cushions and even rugs, which is also a good way of bringing colours into a room that you aren't too sure on too!
Modern.
This is more of a minimalist look, where less is more in this situation. Clean and sharp is the idea of the modern look. With the main colour scheme of black and white, having a modern living room is also a good way, just like grey, of injecting some colour into a room. A hint of colour can be brought in either through cushions, or for a very modern, up to date living room, add wall art and create a feature wall. If you leave everything else as simple as possible and stick to black and white, you will be able to add and change the colour as you please if its through wall art.
Rule of three is effective in all of these design ideas. By sticking to the rule of three, your living room will always look natural and luxurious no matter which colour scheme you choose. Choosing deep and dramatic colours can often take a white to get used to and at first, you might think you've done the wrong thing, but find the right accessories and stick to the scheme you've chosen and it'll be worth it in the end. This can also be the same with light greys and pastel colours. Its often thought these colours shouldn't be used in a living room, as a lot of people choose them for a nursery or a newborn baby's room, however, if modern is the look you are going for, then believe in your ideas and they will work for you and your living room.
**All pictures courtsey of Shutterstock