Falling back in love with your bathroom
Falling back in love with your bathroom
Is it time to redecorate your bathroom but you don't know where to start with a room like this? Want to add colour in or take colour out but don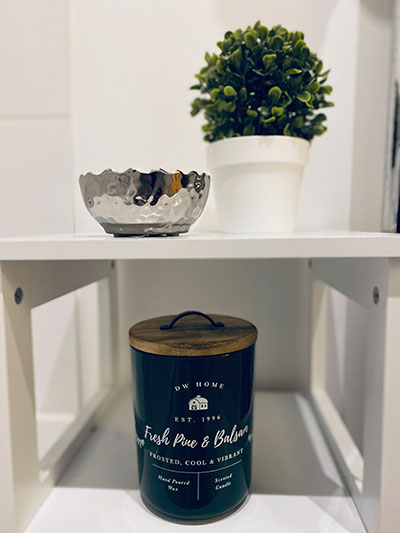 't know how, or where to start? 
Here at Luxury Living blog, we have the top tips for falling back in love with your home - room by room. Starting off with your bathroom. The tips included in this blog post will help you create a room that you won't want to close the door on in your house.  
The Rule of Three.  
Whether that's buying things in threes or doing the decorating in threes - its just the number that works. The rule of three is a guideline that interior designers use as it is appealing to the human eye. It keeps things looking more natural rather than staged. There are numerous ways to bring this into your bathroom, Firstly, you could start by introducing wall art to some blank space you may have, or even try grouping plants, candles or ornaments together, as well as having three towels on display - something simple but could make all the difference. 
For me, having such a white space always looks luxurious, however, I like having that bit of colour that can just tie a room together. So in this instant, I have gone with a darker colour to make the room feel more welcoming, and by using a dark colour, I am allowing for more designs to be welcomed into the room, whether that is through wallpaper, towels, flooring, a shower curtain or even different shapes mirrors or shelves. Don't forget to try a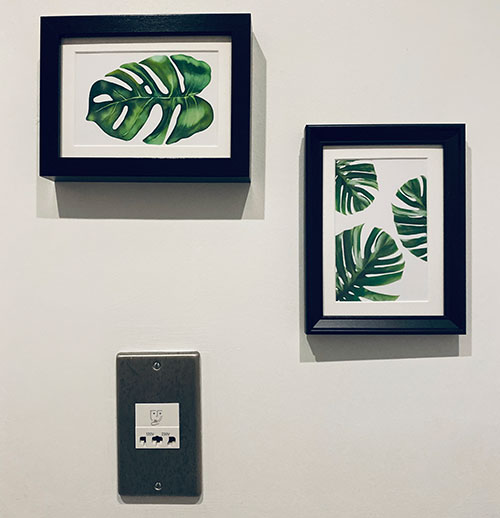 nd use the characteristics of the room that you may not like at the minute to incorporate them into your rule of three. As you can see, I have used the shaving plug on my wall (which I don't like) to my advantage by incorporating it into my pictures and have them as our "feature" in the bathroom.
A Dark Colour Pallet 
To bring dark colours into your bathroom, or any room, you have to embrace the fact the room will look slightly moody compared to your other rooms. But don't forget, the darker the better when it comes to the colour pallet. One way to introduce this into your home is through the Bohemian Design, it is one of those designs that you can't miss - full of deep colours, patterns and l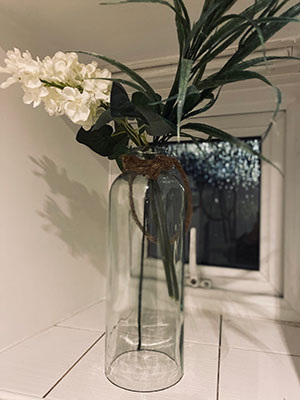 ayers. Perfect for bringing a dark colour pallet into a room. However, people often panic and feel like they could be coming off a bit heavy-handed when it comes to bringing this style into a room. 
 - A simple base. So my bathroom is perfect for this as it is all white space, essentially begging to be brightened up with colours, textures and patterns. 
- Botanicals (or plants) are an excellent way to bring pattern and texture into a room without making it too loud. A variety of plants on a varied scale is an effective way to bring a Bohemian style into your home or a room. 
- Distressed accessories are items that you can add which allow character and charm to be added into any room in the home. Here I have used an old bottle to store plants, two birds with one stone in this case! 
- Add layers! Bohemian style is all about layering textures and colours together, so in a bathroom, you can layer your towels so they bring pattern and colour into the room, in a living room you would be able to add layers in through throws and cushions on your furniture to give it that finished look, this is the same with a bedroom. 
Designing your bathroom like this will give it a new lease on life. It will make your home feel twice as stylish and even though it can take time to get used to, it's worth it when you get it right.