Designer Lighting from Juliettes Interiors
Designer Lighting from Juliettes Interiors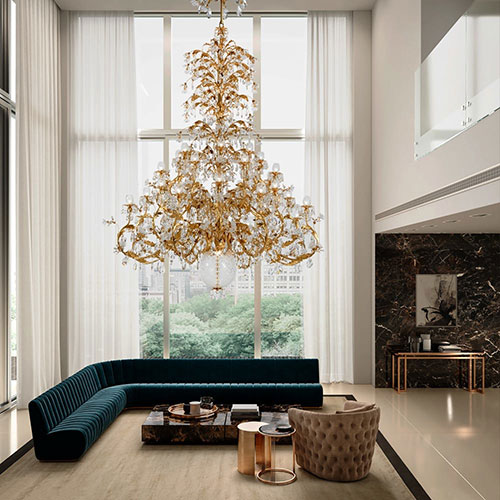 From chandeliers, exterior lights and lamps to wall lights and even bathroom lighting, the extensive lighting collection from luxury, London-based Juliettes Interiors, offers an injection of distinctive design for any interior. Established in 2005 by Juliette Thomas, Juliettes Interiors is an internationally renowned award-winning company, offering an interior design service, retail showroom and interior design course. As well as being a selected member of the British Institute of Interior Design. 
Their range of the world's finest, exquisite chandeliers provides the ultimate in decadent style and sophistication. Breathtaking from any angle, these statement pieces have been crafted by hand to an immaculate standard. From ultra-modern dazzling pieces made using Murano glass droplets and polished chrome, to colonial inspired chandeliers made from delicate bronze, the show-stopping lights make for an impressive, bold feature in any imposing entrance hall, dining room or grand staircase. 
Founder and Director Juliette Thomas states "Lighting should not be thought of as purely functional. It is a major design element within your home and right now, the trend is for big, brave, bold pieces."
An essential element in any room, lamps add glamour and finesse, yet offer discreet, understated pool of light. Each lamp from Juliettes Interiors is crafted from the finest materials with the utmost attention to detail. Choose from sweeping arcs, elegant curves, swirls or bubbles for a stylish finish, or opt for traditional, ornate carvings with flowers and foliage for a classic piece designed to be admired, whether switched on or off.
The exclusive, high-end wall lights collection offers homeowners perfectly soft lighting for a subtle, warm glow. From delicate Swarovski Crystals and grand gold leaf designs to opulent, geometric lights, the broad range is made up of traditional, art deco and contemporary styles to complement any interior. 
All luxury lighting from Juliettes Interiors can be fully customised to allow beautiful, bespoke pieces to fit any decor. 
All pieces from Juliettes Interiors are priced on application.