Spotlight on Formoso by Clearwater
Spotlight on Formoso by Clearwater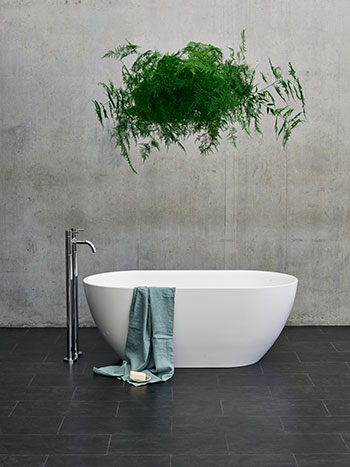 Forming part of the Modern collection from Clearwater, the Formoso bath celebrates luxurious bathroom design with its sweeping elegant curves, contemporary aesthetic and exceptional functionality.
Designed to introduce opulence to everyday bathroom routines, the Formoso is crafted from ClearStone, a unique material made from a sedimentary stone composite with Gibbsite mineral filler.
ClearStone allows the Formoso bath to be crafted with a delicate rim and a soft profile, for a beautifully graceful appearance.
The striking bath, which comes with a 10-year guarantee, has a glossy finish, which is scratch-resistant and hardwearing, or opt for the matt finish for a softer aesthetic, which is just as durable
Featuring subtle curved corners and a rounded silhouette, the gentle design makes a bold statement in any contemporary bathroom scheme. Considering family bathrooms and ensuites, the Formoso is available in Grande and Petite sizes to suit any space.
Bright white in colour, the Formoso provides homeowners with a timeless bath for on-trend, minimalist bathroom décor.
The Formoso bath is priced from £2,199.00
Hoxton Floor Standing Mono Bath Shower Mixer in Brushed Brass from Britton £699.00
Crystal bath filler on stand pipes £719.00
Crystal bath shower mixer on stand pipe £779.00
Sapphire bath shower mixer filler on stand pipes £799.00
To take a look at their range, visit their website www.clearwaterbaths.com