Classic Blue with Gemini Tiles
Classic Blue with Gemini Tiles
Elegant in its simplicity, Pantone's Classic Blue is set to make a prominent statement across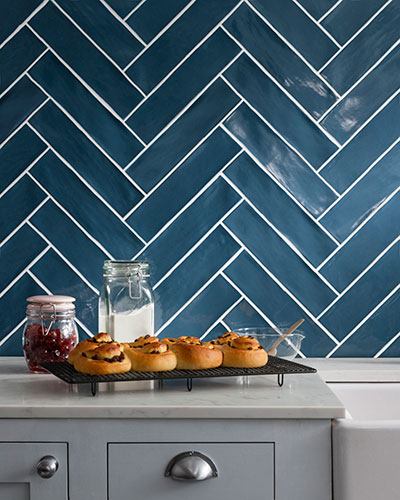 interiors in 2020.
The ideal colour option for living rooms, bathrooms, kitchens and even hallways, Gemini Tiles' selection of wall and floor tiles provides an unrivalled choice for those looking to update their interiors with a trend-worthy finish.
From the deep tones of Poitiers Azure Blue to the striking patterns of Havana's White Garden and Herald tiles, homeowners have the option to experiment with colour and pattern – transforming interiors for the New Year.
Celebrating a handcrafted aesthetic, the Poitiers collection combines the characteristic shine of a traditional glazed tile with the practical benefits of a ceramic surface, ensuring it is the perfect partner to any living space.
Opting for the Azure blue shade from this collection will assist in creating the classically blue styled scheme you have been searching for.
Paired with soft grey wooden cabinetry, brushed brass taps and contemporary finishes, homeowners will be certain to achieve a timeless scheme that coincides with the latest colour trends.
For those looking to embrace bold pattern with a hint of blue, the Cuban and Havana tiles make for the perfect eye-catching option.
The blue and white tiles from Havana's Herald design are the ideal partner to natural woods and whitewashed furniture, delivering an everlasting New England aesthetic.
Alternatively, the contrasting block patterning of Cuban works seamlessly with a dramatic blue backdrop, white wood flooring and heritage style accessories – achieving an interior that exudes traditional charm with a twist of colour.
To take a look at what Gemini Tiles have on offer for your home, visit their website today