Astral Christmas Decorations
Astral Christmas Decorations
Astral Christmas collection by Caravane brings you the best ideas to make your house look fabulous this festive season. 
As the autumnal dots fall away, a cosmic Christmas lights up. Born under a lucky star, this celestial collection shines with brilliant saviour -faire. Truly heavenly, with this astral theme. the sky's the limit - you might even see elephants on parade … But hush, that's a secret … Some will see esoteric symbols, other spontaneous poetry, there's always something wondrous to ponder. One things for certain - this capsule collection sparkles with the spirit of Christmas. Together, this constellation of pieces shines bright.
Deena Trays
Light and bright, the hands of the Deena are a celestial blend of silver-toned aluminium and gold-toned brass. This versatile dish can serve as a display plate, platter or anything you wish. Each dish has been completely shaped by hand without machinery or electricity: the aluminium and brass were first heated, before being bent, cut, hammered and shaped.
19 cm Silver tone or Gold tone Aluminium and Brass - £28
Kanaka Presentation Plate
Evocative of a glowing moon, a new plate has joined the Kanaka plate is ideal as a platter or a presentation plate. Perfect as a silver-toned set, gold toned set or daringly mixed and matched, with the Kanaka the choice is all yours.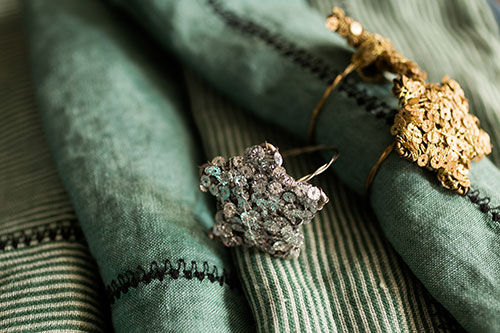 Gold-tone brass 25 or 35 cm - £35 and £55
Silver-tone metal 25 or 35 cm - £45 and £65
Brio Napkin Ring
The sequin gold coin was once the currency of Venice. Today, the term, 'sequin' refers to the technique used to sew small gold-toned or silver-toned metal discs. In its latest edition, the Brio appears in cosmic shapes: a crescent moon or a star. Mixed and matched, the two shades and shapes combine to create a sparkling table setting.
4 cm - Gold tone or silver-tone - Sequins - £6
Theena Candle Holder
If the strength of this elephant lies in its cast iron steel, its lightness comes from its whimsical golden charm. Handcrafted by blacksmiths according to an age-old technique, neither machinery or electricity were used to create this piece. With its soft golden patina, this magnetic candlestick glows
7.5 x 14.5 cm - Iron - £25
Siba Candle Holder
A sweet star with golden patina, the Siba is made of solid metal, which was first moulded and then engraved by hand. Displayed as an ensemble, these candle holders add sparkle to a festive table setting.
2cm - Gold-tone brass - £12
Noe Napkin and Tablecloth New Colors
Made from fine soft linen with an elegant topstitch design, the colour palette of our iconic Noé table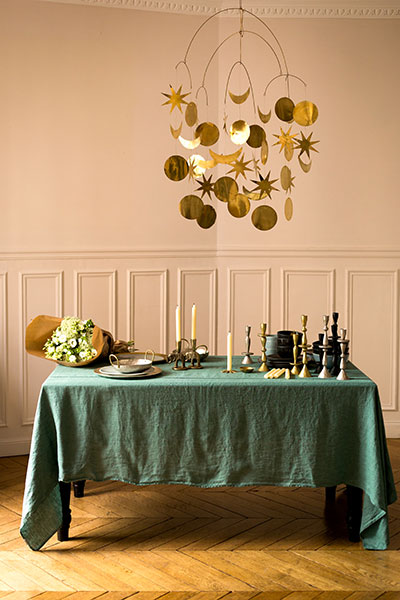 linen has just been expanded once more. The Noé tablecloths and napkins are now available in two new hues:
Sage: the subtle Almond warp blends with a Glacier weft, creating a magical blue-green; and
Sage-Stripes: the textured stripes create a Glacier effect, emphasising the Natural- coloured line.
Both colours were especially designed to be paired with our new tableware collections: the enamelled stoneware of the Chay teapot and the porcelain of the Kachay cups and the Daily plates.
Napkins – Washed linen – 45 x 45 cm
Sage, Sage Stipes - £16
Tablecloths – Washed linen – 170 x 170cm, 170 x 250cm, 170 x 320cm – £140, £190, £240
Helmer Napkin
Spun and woven by hand, this pure cotton khadi napkin features a charming embroidery of irresistible irregularities and vibrant shades. The hand-embroidered elephant, embellished with colourful vegetal figures, is a nod to our tableware collections and unicoloured fabrics. Woven in each corner, discreet muted-grey stars twinkle.
38 x 38 cm – cotton khadi – £10
Prelee Napkin Ring
Handwoven glass beads and astral figures with gold highlights set against a background of Mint, Celestial, Black and Gold. Each napkin ring radiates like a small shooting star.
4 cm – Mint, Celestial, Black or Gold – £6
Jya Candlesticks (Set of 3)
Each piece is handcrafted by blacksmiths without electricity or machinery. Using an age-old technique, the artisan first heats the iron before bending it, cutting it and finally hammering it. The organic form is accented by a small tray, that seems to wander here and there with the light of the candlestick. The Jya is available in three sizes and three finishes: shining Silver, glowing Gold and vibrant Black.
Silver-tone, Gold-tone, Black – 19, 22, 29 cm – Iron – £58
Ema Trays
With their disconcertingly fine organic lines and magical golden reflections, the Ema trays are decorative pieces in and of themselves. Seemingly simple, the superimposed lines are a brilliant work of artisanal craftsmanship.
17 and 21 cm Gold-tone brass £48
Mohair Plaid Throw
Woven in Ireland according to a traditional technique, the pastel shades of this Mohair are as sweet as its fringes are surprising and as its weave is evanescent. From the bedroom to the living room, this timeless piece is an absolute essential.
140 x 170 cm – Mist, Turmeric, Hawthorn, Snow Mohair and wool – £220
Shakti Cushion Cover and Pouch
The velvet background looks like a deep sky hung with star dust. With its evanescent threads of Mist-coloured cotton and hints of Turmeric, this fine hand woven embroidery sparkles. A light and hypnotic nebul.
40x55cm – Glacier or Indigo – 100% cotton – £85
Moona Cushion Cover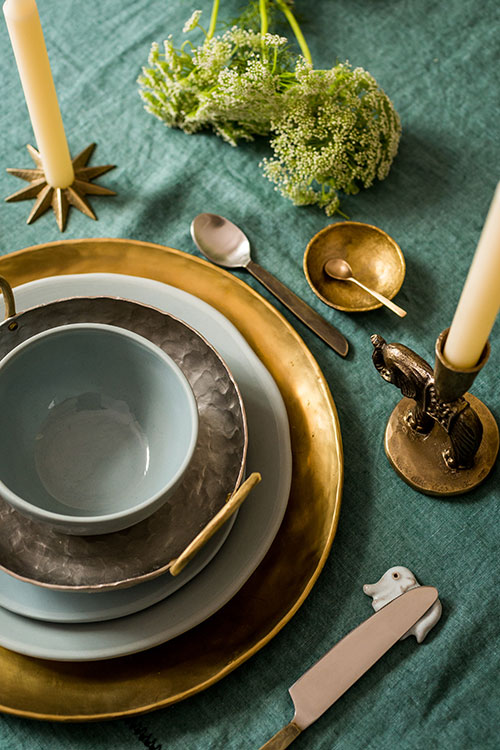 The Sky-Blue colour of this hand- guided embroidery is beyond imagination. Within the pointillism, figures appear, creating a wondrous and esoteric lunar calendar. Whether in Saffron or Natural velvet, the chromatic colour palette exudes cosiness.
40 x 55cm – Saffron or Natural 100% cotton – £85
Astra Mirror
Sunrise, sunlight or sunset? The three silhouettes look perfect together. This small singular mirror was completely handcrafted using an embossing technique. The mercury-glass effect adds a vintage vibe. The Astra shines whether clustered in a group on a wall, used as a coaster, displaying a candle or even illuminating a Christmas tree ... let your imagination run wild.
12 cm – Gold-tone brass – £12
Naila Hooks (Set of 3)
Atop a gilded iron structure, sits a handwoven bamboo fibre. Rhythmically woven, this set of three hooks is available in a Natural vegetal shade or a Natural and Black version.
Diameter 6.5, 8.5 and 9 cm – Natural or Black and Natural – £75   
Shaana Candle Holder
The Asu candle holder is made from recycled wine bottles that have been wrapped in abaca (a type of banana fibre) paper, which is accentuated by the Natural-hued stripes of the sugar cane leaves. This mineral blend creates a soft glowing light. Grouped together, the Asu shines like a sweet nebula.
7 x 8cm – Recycled glass – £10
Asu Candle Holder
The Asu candle holder is made from recycled wine bottles that have been wrapped in abaca (a type of banana fibre) paper, which is accentuated by the Natural-hued stripes of the sugar cane leaves. This mineral blend creates a soft glowing light. Grouped together, the Asu shines like a sweet nebula.
8 x 8 cm – Recycled glass and abaca paper and sugar cane leaf – £22
Constellation Mobile
Enchanting, naive and perhaps even a little esoteric, this mobile is a constellation of stars and full and crescent moons, carefully cut from brass sheets. Available in two sizes, hang two together to create a starry sky, suspend one over a bed to lull a little one to sleep, or affix the mobile to the wall to enhance your decor.
50 x 80cm and 70 x 65 cm – Gold-tone brass £45 and £55
Hajar Candle Holder
A soft filtered light. A mineral silhouette. The secret? The Ajar is made from a salt crystal that was carefully carved by hand. Solo, it shines, with its magnetic aura; in company, new harmonies can be created. Please note, because it is made from natural salt, the Ajar will dissolve if it comes into contact with water. Store your Ajar in a dry place, free of moisture.
Salt Crystal – 6 x 7 cm, 8 x 11cm, 11.5 x 14cm, 12 x 20 cm – £25, £65, £80, £95