Dr Kate's top tips on how to keep bloating at bay during the Christmas party season
Dr Kate's top tips on how to keep bloating at bay during the Christmas party season
Want to know how to keep bloating at bay this Christmas season? Follow Dr Kate's top tips to find out.
1.      Stay hydrated – Keeping hydrated (with water, not alcohol!) is essential for all aspects of health, including supporting our gut microbiome and immune system.  It helps to ensure that we are naturally flushing out toxins and helps our digestive system to work better, reducing the risk of constipation which may cause bloat and even poor skin as a result.  
2.      Take your time while eating – Eating slowly allows foods to be digested properly. This means taking your time while chewing and not rushing, giving your stomach time to realise what's going on. It's also said that you feel more satisfied with your meal if you take time to enjoy it. The extra timing allows your brain to register that you're full and signals to stop eating, hence helping to beat the bloat associated with over-eating.  
3.      Take a probiotic – Bloating could suggest you have an imbalance in the gut. Probiotics are designed to help keep your gut healthy by rebalancing the composition of your gut microbiome, keeping those good bacteria levels nice and high. How do they work? Probiotics can form a helpful protective barrier (like a wall of soldiers) on the gut lining and protect you against bad bugs.  Some probiotics may even help to break down foods such as gluten or lactose and aid in healthy digestion. Take a high-quality probiotic which has been specifically researched for beating the bloat. 
Please see below for more information on 'One week flat':  
·       Daily-use supplement containing 5 billion live cultures per sachet as well as 0.3g FOS fibres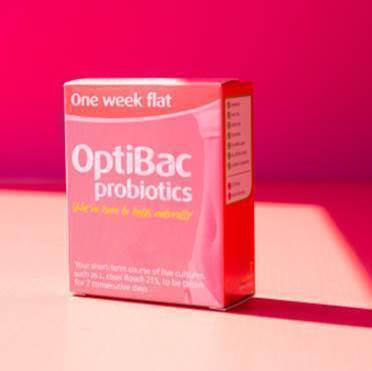 ·       No refrigeration required, contrary to some other good bacteria supplements 
·       Suitable for women during pregnancy and breastfeeding, children (4 years +), vegetarians, and gluten free for those with coeliac disease or an intolerance 
·       Available in two pack sizes; of 7 sachets (RRP £8.69) and 28 sachets (£24.99) 
·       Take for seven consecutive days - one sachet per day - or as professionally directed. Most customers take this course once a month, but it can be taken as often as desired.
·       Can be purchased from Superdrug, selected health food stores and online at www.optibacprobiotics.co.uk 
For further expert comment, product samples or pack shots please get in touch with the OptiBac press office: optibac@brands2life.com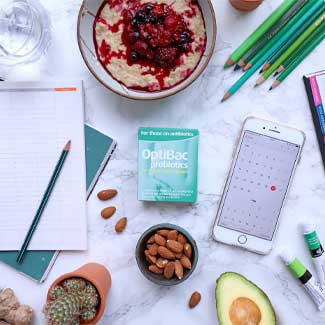 About OptiBac Probiotics  
OptiBac Probiotics is the UK & Ireland's most popular brand of probiotic supplements*. Specialising entirely in live cultures and boasting some of the most researched strains in the world, OptiBac Probiotics are the experts in friendly bacteria.  
OptiBac Probiotics' award-winning supplements are rated Excellent on TrustPilot** and the brand is home to the widest range of probiotics.  There's something for everyone, whether you are looking to add some good bacteria to your daily routine or need something more specific, such as support whilst on antibiotics, travelling abroad or with intimate health. 
Visit www.optibacprobiotics.co.uk for more information or call 01264 363 193 for nutritional advice. Like OptiBac Probiotics on Facebook and follow on Instagram and Twitter @OptiBac. 
*Hitwise Jan / Feb 2019 independent probiotics supplements **Trustpilot Rated  4.8/5 'Excellent' based on 2,264 reviews