Goodbody Wellness Launches Premium CBD Range to Promote Natural Balance
Goodbody Wellness Launches Premium CBD Range to Promote Natural Balance
Goodbody Wellness www.goodbodywellness.co.uk provides an extensive, all-encompassing range of the finest quality CBD products to naturally support a healthy lifestyle. The range includes oils and balms, edibles and a skincare range, as well as CBD infused coffee, and even bath bombs.
All products are made using the world's finest natural ingredients, fully traceable from seed to store, free from harmful chemicals, artificial colours, sweeteners or preservatives.  The Goodbody Wellness range is rigorously tested by PhytoVista laboratories, the industry leading CBD testing facility, and is f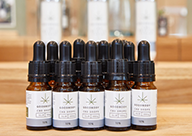 ully compliant with all UK regulations. 
A recent report by the Centre for Medicinal Cannabis found that CBD is one of the fastest growing wellbeing product categories in the UK.  Current estimates suggest that 1.3 million consumers spend in excess of £300m every year on CBD products in the UK, making the CBD market larger than the total UK vitamin D (£145M) and vitamin C markets (£119M) combined.  To date, around 6m adults have put this natural product to the test.  
Chris Jones, Managing Director, Goodbody Wellness said, "We have taken the utmost care with our first CBD collection – from the highest quality ingredients and testing, to beautiful packaging.  Our products are available online and on the high street.  We have launched with three wellness centres in Bath, Cirencester and Bristol with plans for a further 50 in the next few years".

The Science

CBD – or Cannabidiol - is a naturally occurring extract derived from the Hemp plant, cultivated for industrial use, containing less than 0.2 percent THC. Unlike THC, the psychoactive component of cannabis responsible for its recreational high, CBD has no psychoactive effect and can be legally sold in the UK as long as its THC content is below 0.01 percent. 
The human body contains a little-known network of cannabinoid (or CBD) receptors called the endocannabinoid system (ECS). Our ECS is vital to our survival and is known to regulate sleep, mood, appetite, memory, reproduction and fertility. 
Your ECS system promotes internal harmony and balance  - if an outside force, such as pain from an injury or fever throws off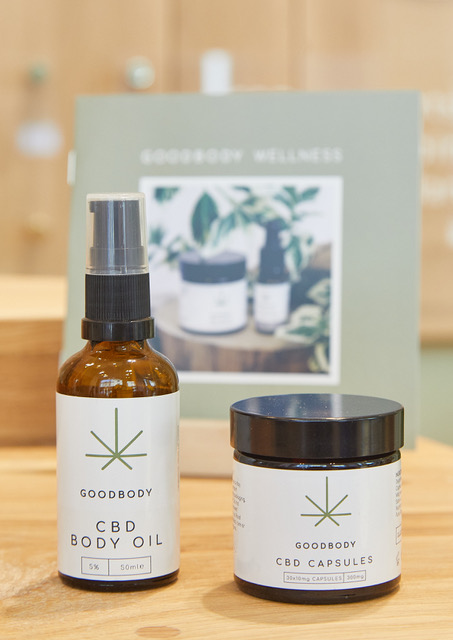 your body's stability, your ECS kicks in to help your body return to its ideal operation. Taking CBD is a way to enhance our ECS function and support the body's internal natural balance. 
The Goodbody Wellness Range 

Oils
CBD Drops – available in 2.5%, 5%, 10% or 20% extracts, of the highest quality CBD. The natural oil retains only the beneficial compounds from the hemp plants making it one of the best on the UK high-street today, from £19.99 to £139.99.
NEW flavours – 20% CBD oil drops now available in Peppermint and Orange & Lemons flavour, ideal for those who struggle with the taste of natural hemp CBD, £139.00.
MCT (coconut oil) CBD Oil Drops 5% – available in Raspberry, Chocolate & Hazelnut and Black Forest Gateau, offering a flavoured alternative to help mask the taste of natural hemp CBD. Add to your coffee or drop under your tongue to enjoy, £36.99.

Syringe Extract – available in 25%, 50% and 75% extract with an easy to use oral applicator via the cheek or gum and are ideal for those looking for a higher dosage. The markings placed on the side of the syringe help deliver an exact dosage of CBD providing a highly targeted delivery of CBD to a specific area, £20.99 to £57.99.
Edibles

CBD Gel-Tabs provide a convenient delivery method. Their easy-to-take jelly consistency is ideal for a slow release of CBD to be absorbed into your body when placed directly under your tongue. Available in cacao or original, with 2.5%, 5% or 10% variations from £20.99 - £70.99.
CBD Capsules - high-quality oral capsules offer a discreet and convenient way to administer CBD. With all 14 containing cannabinoids, terpenes and essential oils extracting all the most powerful compounds of the cannabis plant.
CBD Coffee 
CBD infused coffee offers one of the most effortless ways to consumer CBD as part of your daily routine and start your day with a buzz. The coffee comes available as beans, medium ground or filter, from £14.95.
CBD Bath Bombs
Choose from CBD Bath Bomb Luxe with a gel core of 25mg of CBD, CBD Bath Bomb K.I.S made with oatmeal to help detox and exfoliate, or CBD Bath Bomb Relax infused with lavender aroma.  Both contain 20mg of CBD. Take a soak for at least 20 minutes to benefit from the CBD, oils, salts and clays. From £9.99 to £14.99.
CBD Body Oil 50ml
Relax and unwind with this CBD infused body oil. Use to help promote nourished and smooth skin whilst enjoying a complimentary scent of vanilla and almond, £29.99.
Skincare 
CBD Balm - use this CBD infused balm to promote nourishment of the skin while also benefiting from the properties offered by CBD, £24.99.
CBD Rescue Cream – 250mg and 500mg - works to restore, rescue and soften your skin effortlessly, leaving you feeling revitalised and rejuvenated, £22.99 and £39.99.
CBD Skin Structuring Moisturiser - Apply Skin Structuring Moisturiser to improve skin's radiance and youthfulness. It works to hydrate and moisturise the skin whilst giving a youthful glow, £79.99.
CBD Ultra Lifting Designer Serum 
The quick-absorbing CBD Skin Designer serum combines proven anti-aging ingredients and antioxidants, to help further maintain your skin's moisture levels to leave your skin hydrated and revitalised, £54.99.
CBD Night and Oil Serum 
This CBD infused moisturising facial oil provides a soothing, calming solution for skin cell renewal.
Enhanced high levels of all-natural CBD keep the skin feeling firm, strong and naturally refreshed, £45.99.
CBD Cleansing Bar and Skin Purifier 
Enhanced with bamboo powder the CBD infused facial skin purifier works to deeply cleanse the pores in your skin and while also soothing to give the face a more radiant appearance, £11.99.