Healthy Canapés in time for Christmas - Courtesy of the Hilton
Healthy Canapés in time for Christmas - Courtesy of the Hilton
We have paired up with the Hilton to bring you some of their popular and healthy canapés that they have on offer in their Level8ight Skybar during the festive season. They have even allowed us to provide you with their recipes and step by step guide on how to produce the luxurious treats on your own, if you want to impress your friends or family. 
RAW DAIKON WITH CUCUMBER, MANGE TOUT, SHISO & FLAXSEED 
Serves 20 as a canape or snack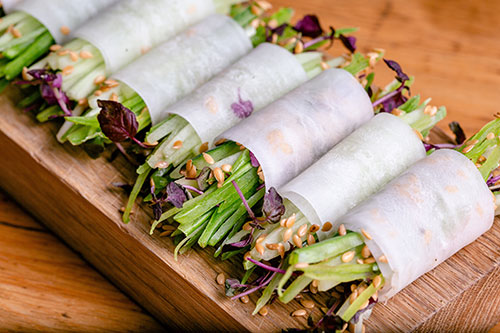 A great raw food snack that its full of flavour and a healthy lifestyle !
INGREDIENTS
1 small Daikon Radish  
50g Mange Tout 
½ Cucumber 
1 punnet Shiso Cress
50g Flaxseed whole seeds  
50ml Rice Wine Vinegar 
20ml Gluten Free Soy Sauce
INSTRUCTIONS
Peel the daikon and slice very thinly preferably on a Japanese mandolin so you have long thin strips 4cm wide 
Cut long thin strips of the mange tout and cucumber and dress with the rice wine vinegar and soy  
Place the cucumber and mange tout mix on the daikon and top with the shiso and flaxseed – roll the daikon around the mix so you have an open spring roll style shape 
 
ROASTED CARROT HUMMUS, SMOKED HALLOUMI AND ONION SEEDS 
Serves 20 canape size or snack 
 
Fun canape for your guests whilst maintaining that healthy lifestyle….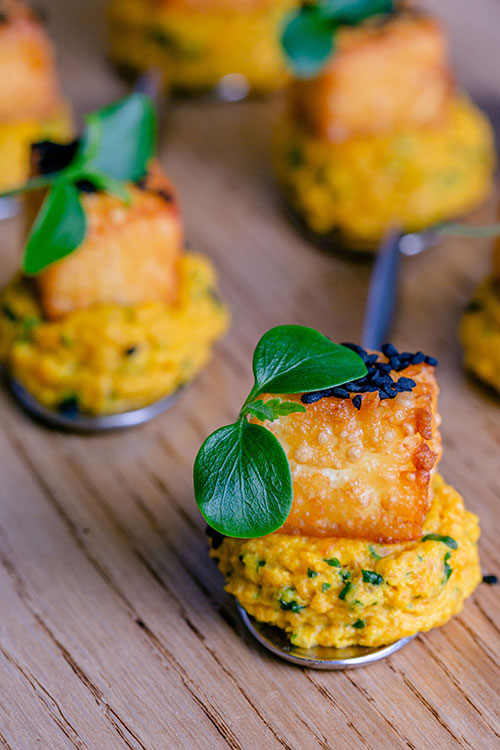 INGREDIENTS
1 packet Smoked Halloumi 
1 tbsp Onion seeds 
1 tsp madras curry spice
1 small bunch Watercress 
500g carrots peeled and sliced
1 tablespoon olive oil
3 tablespoons tahini
2 tablespoons lemon juice
1 tablespoon olive oil
1/2 teaspoon sea salt
Fresh ground black pepper to taste

INSTRUCTIONS
Add carrots to a baking sheet, and drizzle with olive oil. Bake for 30-35 minutes until well roasted.
Add carrots, tahini, lemon juice, olive oil and sea salt to a food processor or high speed blender. Process until the mixture is very smooth. Taste, and adjust salt and lemon juice to taste. Add freshly ground black pepper to taste
Dice the halloumi into small squares and coat with the curry spices, toast off the onion seeds until they pop, shallow fry the halloumi until coloured and soft and top with the onion seeds
On small teaspoons place the hummus and top with the halloumi and finish with the watercress. 
Raspberry, Greek Yoghurt & Coconut Mini Cones 
Serves 20 as a canape or snack   - a fun addition to any celebration while being rela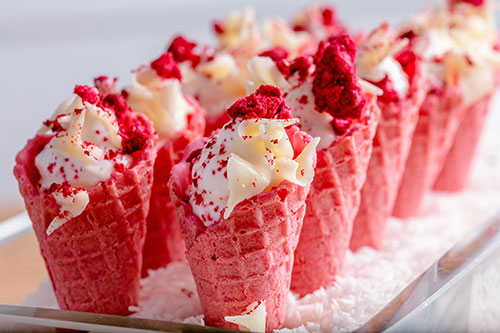 tively guilt free!!
INGREDIENTS
250g Greek Yoghurt 
15ml blossom honey 
75g desiccated coconut
50g dried raspberry pieces 
20 mini canape cones or shells  
White choc curls (optional) 
INSTRUCTIONS
Toast off the coconut and it has tuned a golden brown colour, crush the raspberry pieces until they are a fine powder 
Strain the Greek yoghurt through a fine sieve until all of the moisture has drained away, add honey to taste, Fold through 50g of the coconut to the yoghurt mix and place into a piping bag.
Pipe the yoghurt mix into the cones and top with the extra coconut and raspberry piece
Add the white choc curls if you are using and enjoy!
 
Credit: Level8ight The Sky Bar at Hilton Bournemouth. www.bournemouthhilton.com