Christmas Cocktail Recipes
Christmas Cocktail Recipes
Christmas Cocktails is the best way to kick start the festive season and Level8IGHT The Sky Bar at Hilton Bournemouth offers the perfect setting for every occasion from atmospheric afternoon teas to socialising and sundowners. 
Sweeping views over the Bournemouth skyline create a breathtaking ambiance and can be enjoyed from inside the uber-cool bar or from the terrace on the eighth floor. 
The statement bar has an extensive and innovative cocktail menu, fusing together the finest ingredients to create an innovative list of seasonal, signatures and classic cocktails. The mixologists share their favourite Christmas cocktail recipes to get the festivities under way: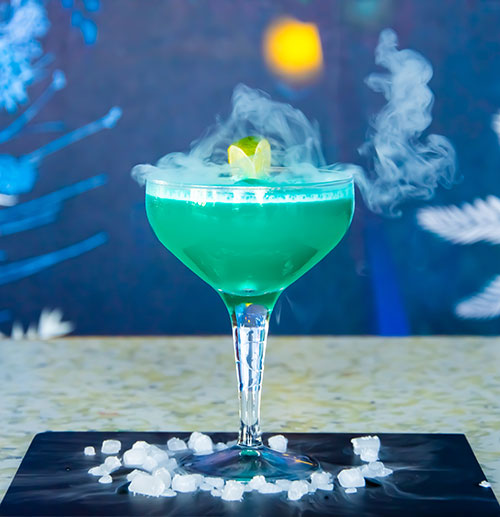 The Old Man and the Sea 
Ingredients:
35ml Havana 3 Rum
15ml Lime Juice
15ml Pineapple Juice
10ml Blue Curacao
7.5ml Luxardo Maraschino Cherry
7.5ml Coconut Syrup 
Method: Shake with Ice/ Double Strain
Glass: Coupe
Garnish: Lime Wedge
This drink pays homage to Ernest Hemingway and the aptly names drink Hemmingway Daiquiri. Hemmingway suffered from a rare hereditary disease that can lead to diabetes which meant he was averse to sugar. The original version of his daiquiri was made with a double measure of rum, splash of lime with no sugar. This was adapted into the well-known Hemmingway daiquiri years later with the addition of grapefruit juice and maraschino to make it more palatable for people with less sour palate. The Old Man and the Sea twist replaced the grapefruit juice with pineapple along with addition of coconut syrup to give a tropical taste to the cocktail, along with blue curacao to give the drink a turquoise colour that's represents the waters surrounding Cuba.
Night and Day 
Ingredients:
35ml Espolon Tequila 
15ml Passoa
20ml Pineapple Juice
15ml Lime Juice
15ml Orgeat 
Method: Shake with Ice/ Strain
Glass: Rocks 
Garnish: Pineapple Leaf
The Great Gatsby
Ingredients:
45ml Bathtub Gin
5ml Homemade Chai Tea Syrup 
1x dash: Cardamon bitters 
Method: Stir with Ice, Strain
Glass: Nick n Nora
Garnish: White Chocolate 
The Great Gatsby was written during prohibition in the United States which was the nationwide ban of the production/ transportation and sale of alcohol. This lead to several boot- leg products being produced in people cellars and bathtubs. These, often fowl tasting spirits has various spiced added to take away the strong taste.  Only the most rich and famous were able to get ahold of the wide range of homemade drinks people we were making during this time, like what is told in the Great Gatsby. The Great Gatsby, keeping in theme with Prohibition uses Bathtub Gin along with Homemade Chai tea syrup along with Cardamon bitters (the third most expensive spice in the world). The additional of white chocolate perfectly complements this stirred down drink.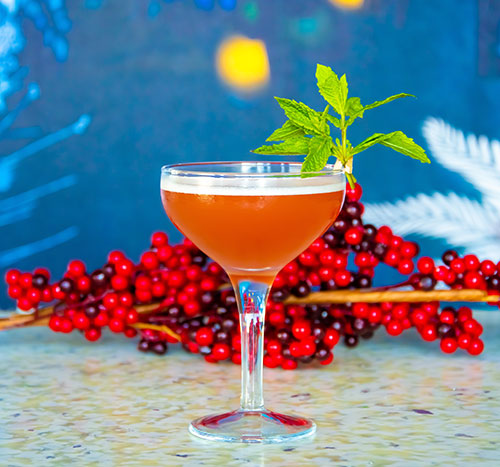 The Evening Sun 
Ingredients:

40ml Bullet Bourbon 
20ml Chambord 
10ml Lemon Juice
10ml Sugar Syrup
20ml Cranberry Juice
1x Mint Sprig
Method: Shake all ingredients with ice/ Double Strain
Glass: Coupe Glass
Garnish: Pegged Mint Sprig 
The Museum of Innocence
Ingredients:
50ml Appletons Signature 
20ml Velvet Falernum
20ml Peach Puree
20ml Lime Juice
10ml Orgeat Syrup
TOP Soda Water
Method: Shake all with ice (apart from Soda Water)/ Strain and top with Soda Water
Glass: Collins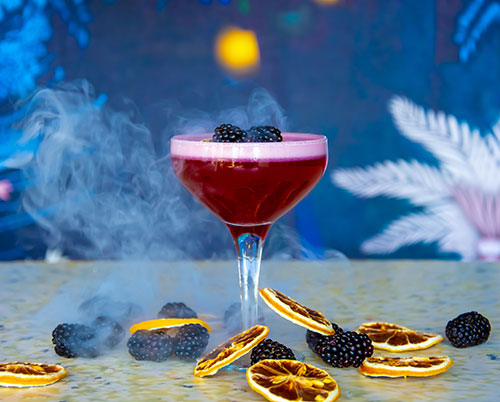 Garnish: Rosemary Sprig 
Huckleberry Fin 
Ingredients:
30ml Tanqueray 
30ml Pama Pomegranate Liqueur
15ml Lemon juice
10ml Sugar Syrup
2x Blackberries (muddled)
1x Egg Whites 
Method: Dry shake (no ice) all ingredients then add ice and shake again/ double strain 
Glass: Coupe 
Garnish: Dehydrated lemon and Pomegranate seeds.