Competition – win a bottle of Diablesse Clementine Spiced Rum!
Competition – win a bottle of Diablesse Clementine Spiced Rum!
Looking for the perfect Christmas gift for a spirits lover this year? While many drinks cabinets will already be stocked full of fruity or artisan gins, go bold this year with Diablesse small batch spiced rum. 
Diablesse Rum is a female-owned brand, comprised of two distinct, small-batch expressions: Diablesse Caribbean Rum, and Diablesse Clementine Spiced Rum.
Diablesse Clementine Spiced Rum (42.3% abv, £31.95 for 70cl) makes the perfect festi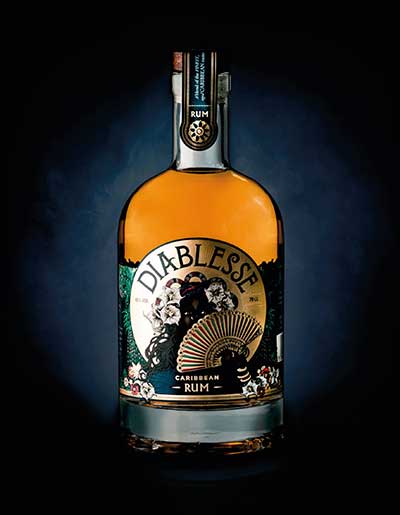 ve tipple thanks to its unique flavour profile that perfectly balances zesty clementine with toffee apple & warm pimento flavoured 100% naturally. 
Served in an eye-catching glass bottle which would be a showstopper on any drinks trolley, the spicy clementine flavour lends itself to the chilly winter months, with its undeniably Christmassy taste. The rum, which is perfect over ice or mixed with everything from ginger ale to prosecco to hot apple juice & cinnamon, has been distilled using centuries-old distillation methods in the famous Diamond Distillery in the Caribbean. 
Alternatively. Diablesse Caribbean Rum (40% abv, £37 for 70cl) is beautifully moreish with notes of chargrilled pineapple and butterscotch with a long, warm peppery finish. It is a blend of three different liquids: an eight-year-old Bajan rum from Foursquare Distillery,  Barbados; a four-year-old Jamaican copper pot still rum from Worthy Park distillery; and a two-year-old Guyanese rum made in the famous, two-hundred-year-old wooden Enmore Still at the Diamond Distillery, the only wooden still of it's kind still in operation today.   
The rum is tropically aged in ex-Bourbon whisky casks and, unlike many rums, it has no added sugar, colour, caramel or other adulteration letting this blend of pure rums speak for itself. Perfect served neat over ice, with ginger ale or in a cocktail such as a Diablesse Caribbean Negroni.
Sourced, blended and bottled by independent Manchester-based company Farman and Son Ltd, Diablesse Rum is already award-winning. The team have created the new spirit by blending pure rums with excellent provenance to give new, undiscovered and delicious flavour profiles, with the range available to buy online now.
The name heralds from the legend of La Diablesse a well-known figure from Caribbean legend. Said to be a beautiful woman who had dealings with the devil,  she was known to seduce unsuspecting men into the forest, casting spells on them never to be seen again….
Cleo, founder of Diablesse Rum said: "There's loads more to rum than a Cuba libra and I'm fed up of gin getting all the attention.  I wanted to create my own rums that are pure, unique and authentic and I've well and truly achieved that with Diablesse. 
"I've launched two blends in the range, and they're going down really well!  One is a traditional golden rum: I've come up with a unique new blend that's smooth & well balanced with delicious hints of butterscotch & chargrilled pineapple and a lovely warm, peppery finish. The other is my Clementine Spiced rum,  it's really zesty and different and I keep getting told it tastes just like Christmas so it seems like the perfect gift for any spirits lover this year!"
The range is currently stocked nationally online at Master of Malt, 31 Dover and Crafty Connoiseeur, and is already available in Selfridges and a number of independent wine & spirits retailers across the North West. It is also served in a number of bars across Manchester, including Cottonopolis,  Refuge, Wood & Co & Volta.
Competition – win a bottle of Diablesse Clementine Spiced Rum!
Finer Things has a 70cl bottle of Diablesse Clementine Spiced Rum, worth £31.95, to give away to one lucky reader. To be in with a chance of winning, enter the Rafflecopter competition below: 
The question you will need to answer to enter is: What percentage abv is the Diablesse Clementine Spiced Rum?  
For more information on the rum and for innovative cocktail ideas visit diablesserum.co.uk
Terms & Conditions: 
*The administrator of this competition is the Finer Things Magazine ("administrator"). By participating in the competition, each Entrant unconditionally accepts and agrees to comply with and abide by these Official Rules and the decisions of Administrator, which shall be final and binding in all respects. Administrator is responsible for the collection, submission or processing of Entries and the overall administration of the competition. Entrants should look solely to Administrator with any questions, comments or problems related to the Competition. Administrator may be reached by email at socialmedia@euromediaal.com during the Promotion Period. 
* This giveaway will close at 12.00am, 27th January 2020.
* The prize is a bottle of Diablesse Clemintine Spiced Rum Giveaway. The prize is non-transferable, non-refundable. There is no cash alternative.
* Open to UK residents aged 18 or over, excluding employees of the Administrator, the sponsor, their families and anyone else professionally connected with this promotion. 
* The prize winner will be asked to provide their email address so that contact can be made to arrange prize delivery, and their name and county be published in the next issue of the magazine  
* By entering the competition, you grant the Administrator permission to add your details to the mailing list, share your email address and any other personally identifiable information with the other competition Entities for the purpose of administration and prize fulfillment, including use in a publicly available Winners list.
* Entries will only be accepted as instructed and any entrant that does not complete the qualifying requirements will be disqualified 
*  The winners will be chosen using the random entry selector built into the widget.
* The winners will be informed by email within 5 days of the closing date, and must respond within 5 days to claim their prize. If there is no response within the 1 day a new winner will be drawn at random.
*This prize draw is governed by English law and the courts of England shall have exclusive jurisdiction over any dispute arising in connection with it.
For further T&Cs and our privacy policy please see here Euromedia Associates Ltd: Privacy Policy https://www.iubenda.com/privacy-policy/66331438/legal