Mermaid Pink Gin – The perfect Discovery
Mermaid Pink Gin – The perfect Discovery
If you're looking for an exciting new gin, then look no further. Finer Things have sampled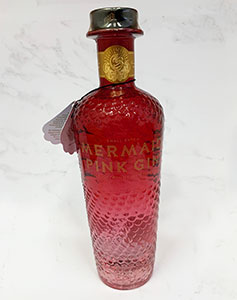 Mermaid Pink Gin to give you a taste of luxury. 
To start with, the presentation of the Mermaid Pink Gin bottle looks incredible. I've never seen a bottle that I would be willing to keep after the product has finished, but I would be very proud to display this as decoration. The subtle decoration of the mermaid on the neck of the bottle is a lovely addition. I would be happy to spend money on this to get a well-presented product, especially if I was offering it at a dinner party.
The gin is perfectly sweet yet subtle, and goes amazingly with tonic. If you're a gin drinker who enjoys everything sweet, then pairing it with lemonade would also be a lovely treat. I paired mine with lemonade as I'm not one to mix my gin with tonic (I have a huge sweet-tooth!) but I can imagine that it goes nicely with an aromatic tonic too. 
If you're looking to host a dinner party, then having this in the centre of the table would look smart and elegant. The gin would also be perfect for a gift to a loved one or friend, as it is luxurious and beautiful to look at. 
The plastic free packaging is attractive, and the Isle of Wight Distillery supports marine conservation, which ties in perfectly well with the theme of Mermaid Pink Gin. 
I definitely suggest supporting and investing in this beautiful product, as it certainly isn't one to miss. For more information and more exciting products please visit https://isleofwightdistillery.com/