6 Of the best whiskies to celebrate Burns Night 2020
6 Of the best whiskies to celebrate Burns Night 2020
A whisky enthusiast has selected six of the best whiskies to try ahead of Burns Night on January 25th.
James McIntosh – co-founder of 'wild water' whisky mixer Larkfire – has compiled the list after visiting more than 50 distilleries in the past four months.
James, who likes to add a splash of Larkfire to the best whiskies recommended below, has put together tasting notes for those looking to try something different this Burns Night:
1)  The GlenAllachie (Cask Strength, 10-year-old): 
We love The GlenAllachie distillery and the people there. It's a definite must-visit on the whisky trail. This particular whisky has a nose of heather, honey, toffee apples, and a taste of vanilla with Caribbean spices. Billy Walker, the co-founder of The GlenAllachie, is a legend in the industry and won the Master Distiller/Master Blender of the Year at the Icons of Whisky Awards in December. Lovely drinking!
2)  Glengoyne (18-year-old):
This is a picture-perfect distillery. We recommend the 18-year-old expression, which uses 50% first-fill sherry casks. It has a tremendous depth and mouthfeel, with a taste not unlike a lightly spiced apple strudel.
3)  Bunnahabhain, Caorag:
Caorag – or 'small-peat' in Scottish Gaelic – is a hand-filled exclusive distillery release. A perfect balance with a sweet sherry influence and warming peaty flavour. It's perfect for a dark January night.
4)  Scapa, The Orcadian:
This whisky offers a very sophisticated, honeyed flavour. It's mellow and easy-drinking with a very delicate taste. Worth trying in a Mizuwari-style, served using Larkfire.
5)  Aberfeldy (12-year-old):
A fantastic whisky with a longer fermentation period, encouraging a honeyed sweetness which works nicely with its little hint of spice. A beautiful Highland single malt, an absolute triumph.
6) Blair Athol (12-year-old):
A fantastic, rich, sweet Highland single malt, from the Flora & Fauna range. Notes include dried apricots and treacle toffee. We enjoyed drinking this at the unique Mash Tun tasting bar, which certainly adds to the experience.
www.malts.com/en-gb/visit-our-distilleries/blair-athol
James McIntosh travelled visiting countless distilleries ahead of the launch of award-winning 'wild water' Larkfire, which releases and enhances the depth of flavour of whisky.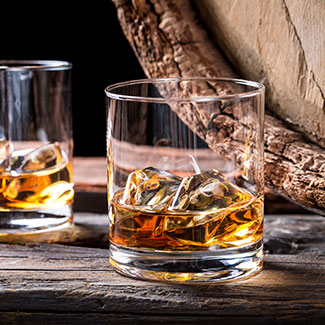 Larkfire was launched after a study by Swedish chemists Björn Karlsson and Ran Friedman in the Scientific Reports journal helped prove that water boosts the concentration of flavour compounds at the surface of whisky, enhancing the flavour. 
The wild water was recently named Best Premium/Adult Drink at the World Beverage Innovation Awards, and is sourced from the Isle of Lewis in the Outer Hebrides. 
James said: "There is incredible passion and care involved in making the best whiskeys, so if you enjoy a splash of water with your dram, it's important not to undo any elements of the complex distilling and ageing process by ensuring you're adding the best possible water. People often add tap water to scotch, but the water has been recycled several times before it reaches your glass, and the added chlorine and fluoride interfere with the delicate whisky flavours. Bottled water also has a high mineral content which affects the aroma and taste. However, Larkfire is the perfect water to mix with whisky as it is pure and naturally soft with an exceptionally low mineral content thanks to the billion-year-old Lewisian gneiss rocks, a key feature of the geology of the Isle of Lewis." 
A percentage of Larkfire sales flow back into the islands via a partnership with The Stornoway Trust, a community landlord which looks after 69,000 acres of land on the Isle of Lewis, where the water is sourced.
Larkfire is the only known canned water for whisky and is now available for just £1 a can at www.larkfire.co.uk.