Expert advice: how to create this year's best Christmas beauty trends
Expert advice: how to create this year's best Christmas beauty trends
Is your festive makeup a Christmas cliché? Get expert advice on why glittery eyes, fully-painted nails and glossy lips are firmly in party seasons past. Urban is Europe's number one on-demand wellness app, on a mission to empower people through wellbeing.
 
Urban believes that when wellness comes first, confidence, happiness and energy follows. And yet, prioritising the things that make you feel well isn't always easy.
 
That's why Urban offers wellness treatments in the comfort of your own home. Simply download the app and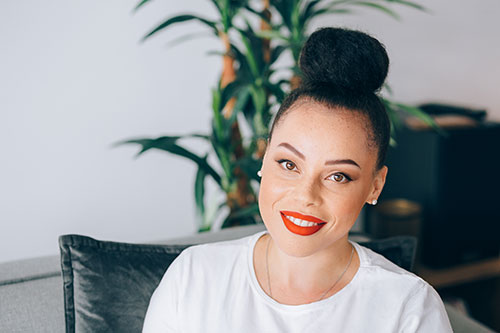 choose from a wide selection of treatments – from massages to makeup, fluttery lashes to physiotherapy.
 
A qualified and hand-selected practitioner will come to wherever you are, so there's no travel, no waiting, and no ruining that post-treatment feeling.
Wellness app Urban has recently set out to conquer the at-home beauty market, with professional nail, lash, facial, hair and makeup appointments now available at your home in just a few taps.
What does beauty have to do with wellness, you ask? According to Yousra Zguirir, general manager for beauty at Urban: "Beauty is as much about glamour as it is about helping you to feel your best. A pampering session is one of the best mood boosters, and there's nothing like freshly-painted nails and a blow dry to up your self-confidence."
Beauty appointments are available on the app from 7am until 11pm, 365 days a year – including Christmas Day – in London.
 
One of Urban's most requested makeup artists, Dorota Nowacka, shared a few secrets with us to help you feel fabulous this Christmas. Having worked as a makeup artist for over a decade in fashion, TV, films and commerce, she's well-versed in industry trends. 
 
 
Dazzling eyes 
 
"Big and bold is the way to go with embellished eyes this season," says Dorota. "Think Motsi Mabuse on this year's Strictly Come Dancing."
 
"Swap heavy glitter - a look that's had its time, for large, individual jewels to emphasise the eyes and add an extra something to your party outfit.

"Build bigger gems into your look by placing them delicately on your eyeshadow line, underneath the waterline and next to the tear duct.
 
"You can still add shine, but look for modern product formulas that offer a soft shimmer rather than the kind of chunky sparkle you might find on the front of a Christmas card."
 
 
Diagonal negative space nails
 
"Negative space nail art is one of the easiest trends to emulate, and certainly one of the most diverse," says Dorota.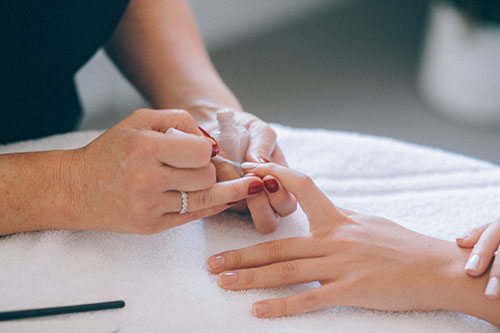 "Painting half of the nail diagonally gives a sophisticated look, with less chance of chipping.
 
"If you don't have a steady hand, nail tape is an essential for the straight-lined look. Tape across the nail and paint your chosen colour as desired. Move the tape for a range of styles.
 
"Key colours for Christmas nails this year include metallic mint green and classic gold glitter."
Hooded winged eyeliner
"Winged eyeliner is a classic look that never dates," says Dorota. "With one simple technique, it can be worn by everyone, including those with hooded eyelids. 

Dorota says the key is to finish the wing on the crease of the eyelid, rather than connecting back to the lash line. 
 
"Use this technique and you can feel confident that your make-up won't smudge however long the party lasts."
Dewy lips
Gone are the days of super sticky lip glosses that cling to hair and slide across your skin. Make way instead for fresh-feeling formulas that are nourishing and lightweight.
Dorota says: "Dewy lips work with both bold and bare eyes. That's the beauty of the trend, it works with anything."
Achieving this look is satisfyingly straightforward – keep lips moisturised and exfoliate if needed. Then simply slick on balm, making sure not to apply too much.

 
Bare skin
 
Is there anything more beautiful than feeling fantastic in your own skin? Reap the benefits of a good skincare routine with minimal makeup that reveals your natural glow.
 
"At Urban, we empower people to feel their best with treatments that are tailored to them, so I'm particularly pleased that the 'no make-up' look is hot this season," says Dorota.
 
Hydrate and moisturise on a daily basis and invest in regular facials for a healthy glow from within. Finish off with a tinted moisturiser and a little highlight shimmer on your cheekbones and nose bridge.  A bright lipstick completes the look perfectly – try a pop of pink or a bright coral.
Not sure which facial to get to achieve your healthiest ever skin? Dermalogica-certified Urban facialists can deliver a totally tailored experience to your needs.